For this Visitability series, we'll start from the outside and go in. The first challenge is to get into the home. A zero-step entry allows all people, regardless of mobility aides, to enter the home easily and is the first step (pun intended) to creating a home in which you can age-in-place. Plus, all the accessibility features indoors—not to mention your great interior design decisions—will be in vain if there isn't at least one zero-step entry into your home. Home buyers can see the opportunity to in a home that doesn't remind them of a hospital
95% of homes can be modified to have a zero-step entrance if they do not already have one and there are many ways to do it. As you can see in the pictures below, zero-step entries don't have to look institutional; in fact, many people don't even notice that a home has a zero-step entry until it's pointed out. Some zero-step options are easier than others, but the result is the same: easy, efficient, accessible living. The kind of zero-step entry added to the home will depend upon both the design and construction of the home AND the needs of the individuals visiting or living in the home.
Use your garage. If there is a one-step entry from inside the garage, a simple interior ramp might be the best option to achieve a zero-step entry.
Use your land. Building a house on steep lots of lots with different topography can assist in having at least one zero-step entry. If a home is already positioned on a hill, raising the land even more might make sense in creating a natural ramp to the front door.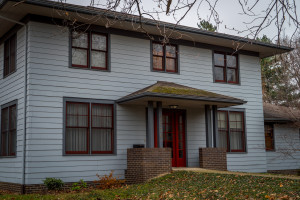 Use your porch. Add a ramp that matches the decor of your porch, either in the front or the back of your home.
Use your one-step entry. A simple ramps can be added (permanent or not) to allow for wheelchair access over a single step.
Want to learn more? Check out this Concrete Change presentation.
However you achieve it, zero-step entry is the first modification so that anyone, regardless of mobility need, can comfortably enter and visit your home. In our next post, we'll discuss doorways and pathways so your visitors can enjoy your house once inside it.